"I've been a guitarist almost all of my life. As all musicians I am a mix of my influences and upbringing, so here is a recipe to understand how I am."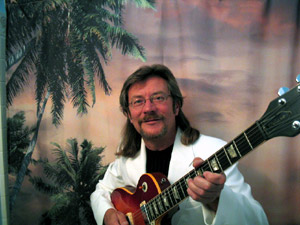 Take a young man, a musician since age 9, with dedication and a deep love of guitar, from Chuck Berry to Jimi Hendrix,
Add: 1/4 cup of British Invasion of the 60's. (Beatles, Animals, Kinks)
1/4 cup of American Folk Rock. (Byrds, Lovin' Spoonful, Credence C.R.)
Get him interested in country music by turning him onto guitarists like Jerry Reed, Don Rich, Doc Watson, and Danny Gatton. Add: 1/2 cup of real country music. (Bob Wills, Johnny Cash, Buck Owens, Don Williams, and Merle Haggard)
Add: A pinch of dry hillbilly humor, irreverence and dry wit.
Mix well until the country stays on the top, and then put him on stage in honky-tonk bars, five hours a night, five days per week, for twenty years, and hope for the best.
-Tom Vicson